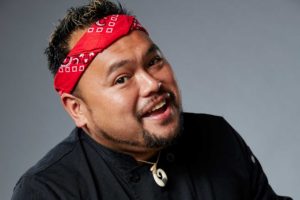 Kaimana Chee was born and raised in the small towns of Hau'ula and La'ie, HI, on the north shore of O'ahu.  Growing up in the "catering business," Kaimana learned his craft from his parents, grandparents, and other relatives who specialized in traditional Polynesian, Hawaiian and Asian cooking techniques. While he never attended formal culinary school, Kaimana honed in on those techniques through his travel across the continental U.S. and Japan. In 2007, Kaimana opened Sava's Lunchwagon, a food truck that served the north shore and windward O'ahu.  Shortly after, Kaimana moved to the east coast to develop and expand on his culinary skills. Kaimana is joined by Chef de Cuisine Justin Boyd.  We can't forget Rockstar Rachel Partoza too!
Television and Competitions
In 2011, Kaimana realized his growing potential, when he auditioned and was selected as one of the top 100 home cooks in America to compete in Gordon Ramsay's Masterchef on Fox that premiered in June 2012.  Upon returning to the east coast he was hired as a chef instructor at DC's premier recreational cooking school, CulinAerie.
In 2014, Kaimana experienced continued success when he appeared on Season 4 of Food Network's Guy's Grocery Games in which he was featured as a chef contestant and performed an original song. In May 2015, he was selected as Macy's featured chef of the Cherry Blossom Festival and a few months later competed at the National Museum of the American Indian's(NMAI) Iron Chef Competition.  Kaimana won the coveted title of the Smithsonian's NMAI Native Chef of the Year.
In January 2016, Kaimana appeared on Alton Brown's Cutthroat Kitchen and became the first chef in show's history to win the competition without receiving a single sabotage from his chef opponents.  Aside from teaching at CulinAerie, Kaimana owns a small catering company, Kaimana's Katering, where he specializes in Hawaiian Lu'au, Sushi Making, and Asian Fusion cuisine.  At the start of 2016, he took on the role of Chef/Culinary Concierge for Hampton Creek.  Now, Chef Kaimana is opening his first full service restaurant and bar called Uncle's Hawaiian Grindz, located in Fallston, Maryland.
He is also a co-founder and Kumu Hula (Teacher) of Halau Nohona Hawai'i, a Hawaiian Cultural School in Silver Spring, MD.
Television Appearances and Awards
2016 Food Network's Guy's Grocery Games – Fan Favorite Redemption Tournament
2016 Food Network's Cutthroat Kitchen S.10 Ep. 11 – Winner
2015 Smithsonian's Iron Chef Competition – Winner (National Museum of the American Indian)
2015 Food Network's Guy's Grocery Games – Runner Up
2015 Macy's Chef of the Cherry Blossom Festival
2014 Bravo's Newlyweds – Guest Chef
2012 Fox's MasterChef Season 3 Contestant
Visit the Kaimana Chee YouTube Channel >>>
Youtube Videos